Barton Forward: Optimizing Growth While Enhancing Natural Capital: CAPI National Conversation in Ottawa May 10, 2018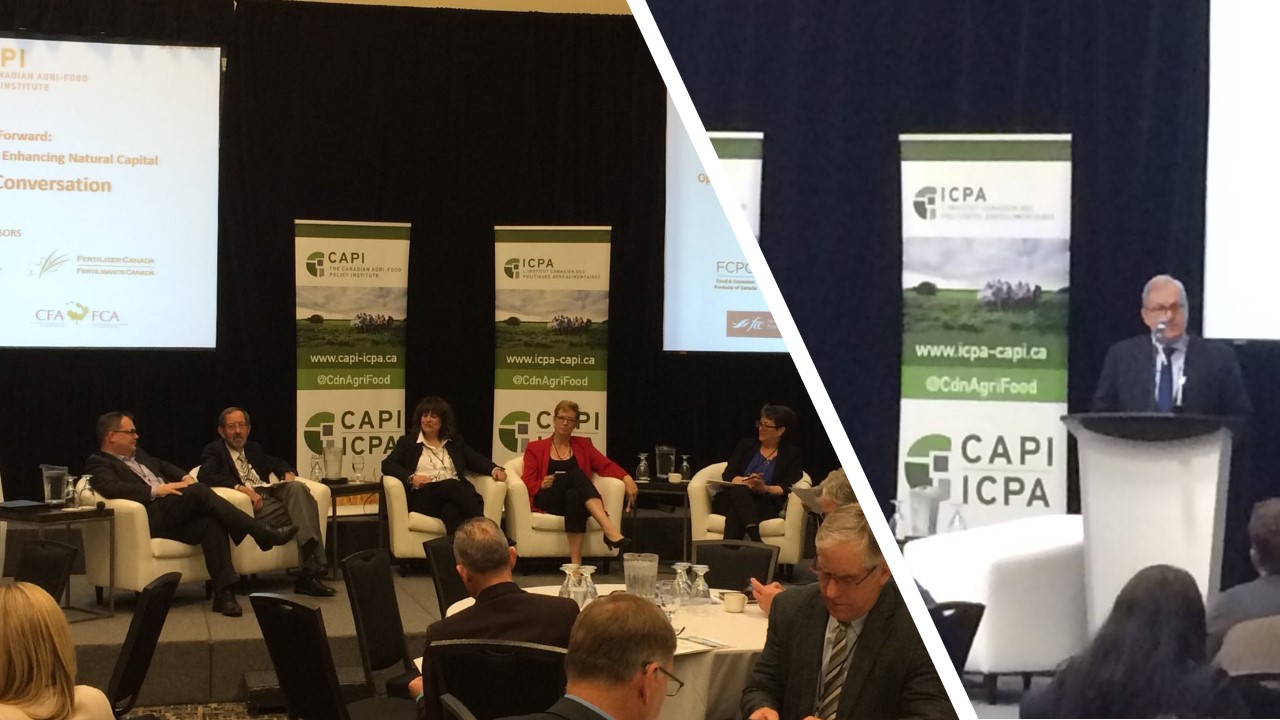 The Canadian Agri-Food Policy Institute (CAPI) held a National Conversation on "Barton Forward: Optimizing Growth While Enhancing Natural Capital" on May 10, 2018 in Ottawa Ontario, partnering with the Canadian Federation of Agriculture and the Food & Consumer Products of Canada. This was the third of three regional workshops that CAPI held in various regions in Canada, making it a National Conversation involving participants from government, producers, processors, academia, industry associations, and NGOs across Canada to discuss the growth potential alluded to in the Barton Report across various agri-food value chains as well as obstacles to future growth. The focus of this National Conversation was on the implications of the growth targets set for the agri-food sector on Canada's natural capital and other domestic policy objectives, and on the role of innovation in securing growth that is compatible with sustainability objective and in building public trust.  The goal is to develop a shared understanding of growth potential across various agri-food value chains and opportunities and challenges in achieving this potential. The outcomes of the two regional workshops and this national conversation were synthesized in this CAPI publication and made available to the Economic Agri-food Table as a barometer of views on the potential for economic growth in Canada's agri-food sector.
This event was the success it was because of the great speakers, discussants and actively engaged participants, including next gen's, who contributed to this important CAPI conversation. CAPI thanks all of you who attended.
DOWNLOAD THE CAPI NATIONAL CONVERSATION (OTTAWA) PROGRAM >
Join the conversations on Twitter using #CAPIdialogue2019
*PDFs of speakers' PowerPoint presentations and/or Papers can now be viewed & downloaded by clicking on the name of the speaker below*
THURSDAY MAY 10, 2018
Opening Remarks: the "Barton" Report and CAPI's "Barton Forward" Project – Chair: Deb Stark, Member of the Board of Directors, CAPI
The "Barton" Report and the Agri-Food Economic Strategy Table – an Update
Chris Forbes, Deputy Minister, Agriculture and Agri-Food Canada
"Barton Forward" – Optimizing Growth: Risks and Opportunities Ted Bilyea, Special Advisor to CAPI
What we have heard: "Barton Forward" – Reporting from regional workshops: Don Buckingham, President and CEO, CAPI
Participants' Discussion
Networking Lunch – Chair: Don Buckingham, President and CEO, CAPI
Lunch Speaker: Hon. Lawrence MacAulay, Minister of Agriculture and Agri-Food
PANEL 1:  Agri-Food: Growth, Climate Change and Sustainability – Chair: Evan Fraser, Director, Arrell Food Institute
Chris Forbes, Deputy Minister, Agriculture and Agri-Food Canada
Stephen Lucas, Deputy Minister, Environment and Climate Change Canada
Dale Worme, CEO, National Indigenous Agriculture Association
Ron Bonnett, President, Canadian Federation of Agriculture
Michael Graydon, CEO, Food & Consumer Products of Canada
Participants' Discussion
PANEL 2: Trade: Meeting Consumer Interests at Home and Abroad – Chair:  Suzanne Vinet, Member of the Board of Directors, CAPI
Christine Donoghue, Associate Deputy Minister, Health Canada
Frédéric Seppey, Assistant Deputy Minister, Market and Industry Services Branch, AAFC
Laura Dawson, Executive Director, Canada Institute of the Wilson Center
Diana Bronson, Executive Director, Food Secure Canada
Harvey Anderson, Professor, Nutritional Sciences and Physiology, University of Toronto
Participants' Discussion
PANEL 3:  Our Future:  Science, Innovation and Trust – Chair:  Garth Whyte, President and CEO, Fertilizer Canada
Roman Szumski, Vice-President, National Research Council
Paul Glover, President, Canadian Food Inspection Agency
Wilf Keller, Chair, Agriculture Institute of Canada; and CEO, Ag-West Bio
Kim McConnell, Canadian Centre for Food Integrity
Participants' Discussion
The Way Forward:  Open Discussion – Chair: Peter Philips, Director, Centre for the Study of Science and Innovation Policy, University of Saskatchewan
Closing Remarks and Reception Don Buckingham, President and CEO, CAPI