What We Heard: Canadian Agri-Food in a Hungry World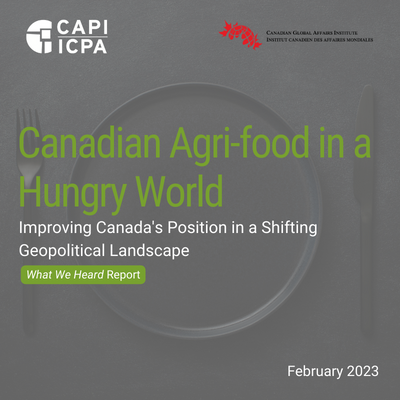 Note from CAPI and CGAI
The world is changing, and agriculture and food are on the front lines. A multilateral trading system under stress, increasing demand, pressures on production and climate change are colliding to tighten supplies, increase food insecurity, and challenge trade. As a top food-exporting nation, how Canada chooses to respond will define our place in the world. Canada has the opportunity to establish itself as a food superpower, playing a major role on the path to global food security, peace and stability. But a more ambitious, long term national strategy which prioritizes agri-food is required.  
In light of this growing opportunity, the Canadian Agri-Food Policy Institute (CAPI), the Canadian Agri-Food Trade Association (CAFTA) and the Canadian Global Affairs Institute (CGAI) joined forces to organize a conference on January 31, 2023, in Ottawa. The conference attended by a broad group of stakeholders from the trade, diplomatic, agri-food industry, policy and academic communities to hear from a diverse group of leading experts on the challenges, opportunities and strategies needed to take advantage of this new reality for Canadian agri-food. What follows are the five key takeaways we heard during the conference. 
Key Takeaways
The world has experienced a paradigm shift from an era of abundant food to one of scarcity. The Ukraine invasion only made matters worse, contributing to greater uncertainty, higher prices and food shortages.  
Food Insecurity has worsened and is a concern for all countries, with the number of people experiencing acute hunger rising to 348 million in 2022. Import-dependent developing countries in Africa and Asia have been particularly hard hit, but major advanced economies are also facing pressures.   
The WTO multilateral trading system is dysfunctional. Trade rules used to provide stability and certainty, but now are less reliable, as the WTO struggles to address climate change, food security and trade under protectionist and geopolitical tensions.  
Canada's new Indo-Pacific Strategy is a step in the right direction, serving as a model, focusing on a long term strategy to expand and diversity trade and promote peace, resilience and security in a growing market, while also reinforcing a strong, broad-based approach to China.  
Canada needs a long-term vision and a strategy. While Canada has a lot of what the world needs, it is getting harder to get it to them. Canada's infrastructure is reaching capacity, our regulatory system needs to become more nimble, we are falling behind on innovation and competitiveness and Canadians are increasingly complacent.