Producer margins in a high-expense and high-price environment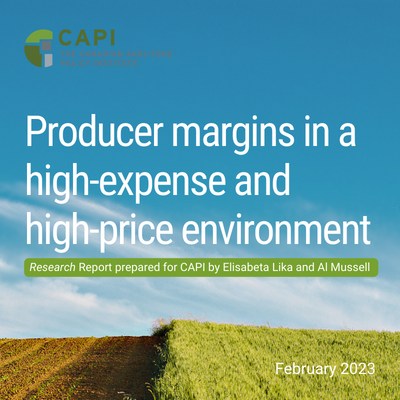 Note from CAPI
Pandemic-induced inflation and supply shortages have caused increases in input costs for Canadian agriculture, a rising trend that began before 2022.However, prices rose even higher in 2022, mainly exacerbated by the invasion of Ukraine and spiking energy costs. Such dramatic increases in input costs, primarily fertilizer, seed and fuel, added additional upward pressure for Canadian farmers, by directly affecting their margins. While it is true that, last fall, a lot of farmers forecasted their fertilizer needs and locked in a price with a supplier for the following spring, many others believed, at the time, prices would not go higher and held out for a better price. On the other hand, crop prices have significantly increased in 2022 and are predicted to remain elevated beyond this year.
In a high expense and high crop price environment, it is important to understand the net effect on farm contribution margins and consequently if farmers will be worse off than what they expected when cropping decisions were made. This research undertaken by CAPI adds value to this discussion of a significant importance to farmers, policymakers, and others by providing a high-level empirical analysis of the situation in Alberta and Ontario and making recommendations from a policy perspective.
Key Takeaways
Both expenses and revenue were higher for Alberta farmers than what were expected, up to20% and 47% higher than expected, respectively. The result is a positive increase in contribution margins from the initial forecast.
In Ontario, expenses increased by up to 24%and revenue increased by up to 30%. Once again margins are higher than initially forecasted in crop budgets.
While the increase in crop prices offset increases in expenses, farmers were exposed to a scenario where uncertainty and market volatility left them exposed to the potential for significant revenue loss and corresponding margin decline.
The policy context, including the risk management framework and tools, should reflect and adjust to this new reality where farmers face increased costs and increased risk, which may be offset by increased crop prices, but which may not be.