Canadian Agri-Food in a Hungry World: Improving Canada's Position in a Shifting Geopolitical Landscape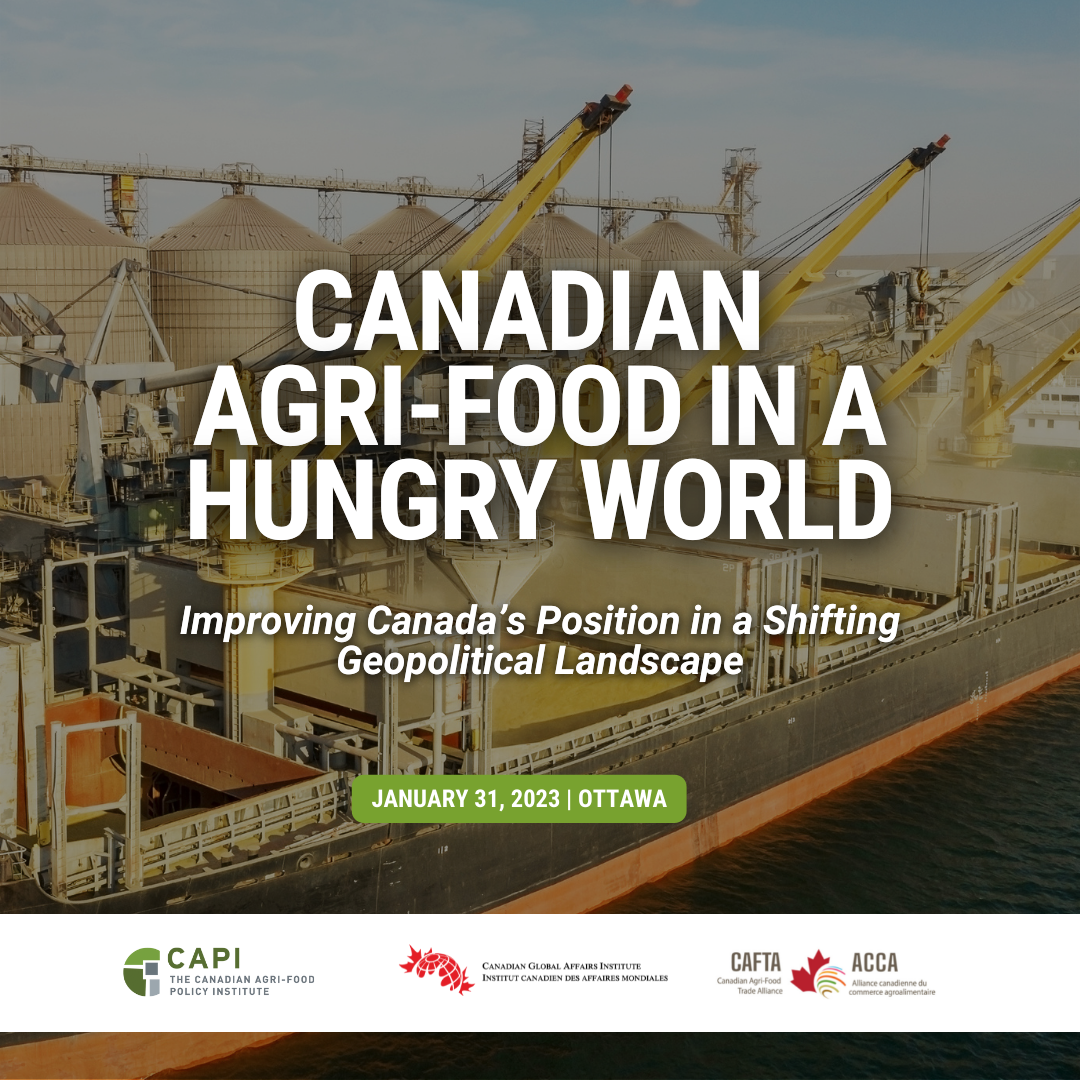 The world is changing and agriculture and food are on the front lines. A multilateral system under stress, increasing demand, pressures on production and more are colliding to tighten supplies, increase food insecurity, and challenge trade. As a top food-exporting nation, how Canada chooses to respond will define our place in the world. Canada has the opportunity to set its agri-food sector on the path of global food security, but a more ambitious, more strategic approach is needed.
The Canadian Agri-Food Policy Institute (CAPI), Canadian Global Affairs Institute (CGAI) and the Canadian Agri-food Trade Alliance (CAFTA) are convening a one-day conference to bring together leaders from across agri-food, security, foreign affairs and trade. The intersection of farming and food production with trade, security and diplomacy can give Canada a new and exciting role in the world, if we are willing to take it on. This event will try and answer whether Canada is ready and able to seize the moment.
Sessions
The event will include a series of panel discussions, fireside chats and keynote speakers exploring the many facets of this critical topic.  Sessions will focus on:
Food Security Today exploring the state of food security around the world.
Creating systems to get Canadian food where it is needed exploring rules-based trade, infrastructure and tools to de-risk international trade.
Food Security and Insecurity exploring the interaction between food security and peace and security.
The Indo-Pacific exploring how to leverage Canada's strength in the region.
Food Power exploring how to leverage agriculture and food to Canada's advantage.

Speakers
The day will include a wide range of thought leaders and experts bringing their experience and perspective to how Canada can use its position as an agriculture and food superpower to improve Canada's position in a shifting geopolitical landscape.
Confirmed moderators and speakers include: 
Hon. Ralph Goodale, High Commissioner for Canada in the United Kingdom of Great Britain and Northern Ireland
Steve Verheul, former Special Advisor to the Deputy Minister of Finance, International Trade Policy
H.E. Yamanouchi Kanji, Ambassador, Embassy of Japan in Canada
Jean-Marc Ruest, Richardson International
Nadia Theodore, Ambassador of Canada to the World Trade Organization and Permanent Representative of Canada to the Permanent Mission of Canada in Geneva, Switzerland
Richard Fadden, former National Security Advisor to the Prime Minister
Michel Miraillet, Ambassador of France to Canada
Dominic Barton, Chairman, Rio Tinto
Chantelle Donahue, Vice President & Sustainability Director– Cargill Agricultural Supply Chain North America
Ted Bilyea, Distinguished Fellow, Canadian Agri-Food Policy Institute
Meredith Lilly, Associate Professor, Carleton University
Senator Peter M. Boehm, Senate of Canada
Andrew Powell, Chief Executive Officer, Asia BioBusiness Pte. Ltd./Senior International Industry Advisor, Edinburgh Innovations, University of Edinburgh
Mairead Lavery, CEO and President, Export Development Canada
Sébastien Abis, Director General, Club Demeter (France)
Kevin Auch, farmer and Chair of Pulse Canada
Goldy Hyder, President and Chief Executive Officer, Business Council of Canada
H.E. Ahmed Hafez, Ambassador of Egypt to Canada
Elly Vandenberg, Director, Global Office Canada, UN World Food Programme
Catherine Cullen, Host, CBC Radio's The House
Chris Forbes, Deputy Minister, Agriculture and Agri-Food Canada
Erin Gowriluk, Grain Growers of Canada
Alanna Koch, Global Institute for Food Security (GIFS)
Carla Ventin, Food, Health & Consumer Products of Canada (FHCP) 
Claire Citeau, Executive Director, Canadian Agri-Food Trade Alliance
Tyler McCann, Managing Director, Canadian Agri-Food Policy Institute
Dr. David Perry, President, Canadian Global Affairs Institute
More speakers, including senior political and industry leaders will be announced soon!