Understanding Our Vulnerabilities: Agri-Food Supply Chain Resiliency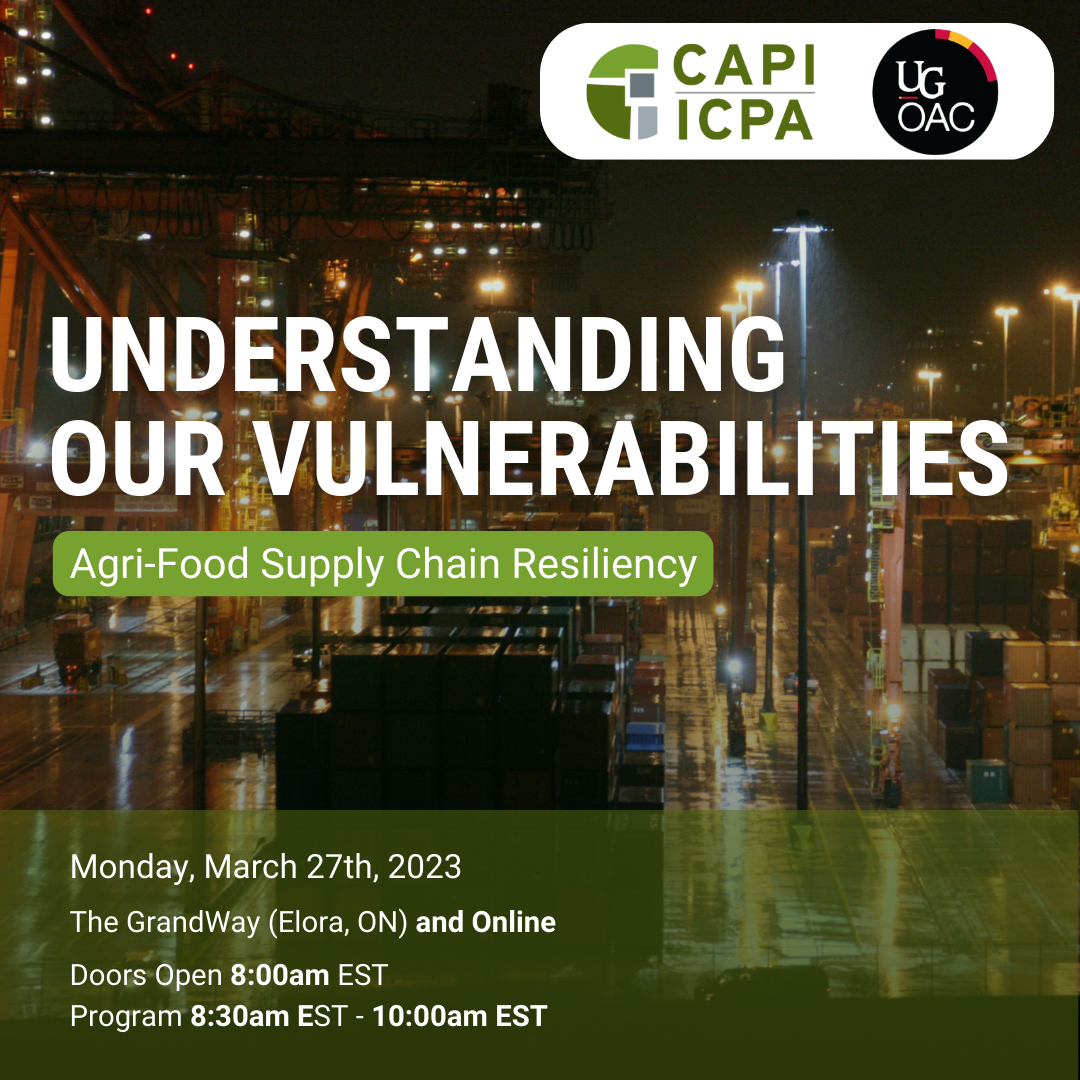 The Canadian Agri-Food Policy Institute (CAPI) and the Ontario Agriculture College are hosting a presentation and panel discussion on the important topic of the resiliency of Canada's agri-food supply chain.
Over the last several years supply chains have faced significant pressures from the pandemic, extreme weather, climate change and other disruptions. Taking a proactive approach, including understanding the sources of supply chain vulnerabilities, and building frameworks to address them is key to building a more resilient supply chain.
The session will include a presentation on a supply chain vulnerability mapping project being undertaken by CAPI, followed by a panel discussion on the critically important topic of building more resilient agri-food supply chains.
What? 'Understanding our Vulnerabilities: Agri-food Supply Chain Resilience'.
Where? The GrandWay Events Centre, 7445 Wellington County Road – Elora, ON and online.
When? March 27 – Doors open at 8:00 AM EST.
Moderator:
Dr. Al Mussell, Director of Research, CAPI
Confirmed Panelists:
Dr. Thomas Armstrong, President, Madison River Group LLC Opening Presentation
Dr. John Cranfield, Associate Dean (External Relations), Ontario Agricultural College, University of Guelph
Mr. Steven Duff, Chief Economist, Ontario Ministry of Agriculture Food and Rural Affairs (OMAFRA)
Mr. Sanjay Khanna, Chief Futurist, SK Futures Inc.