Optimizing Land Use for Sustainable Growth: CAPI Guelph Dialogue – April 24, 2019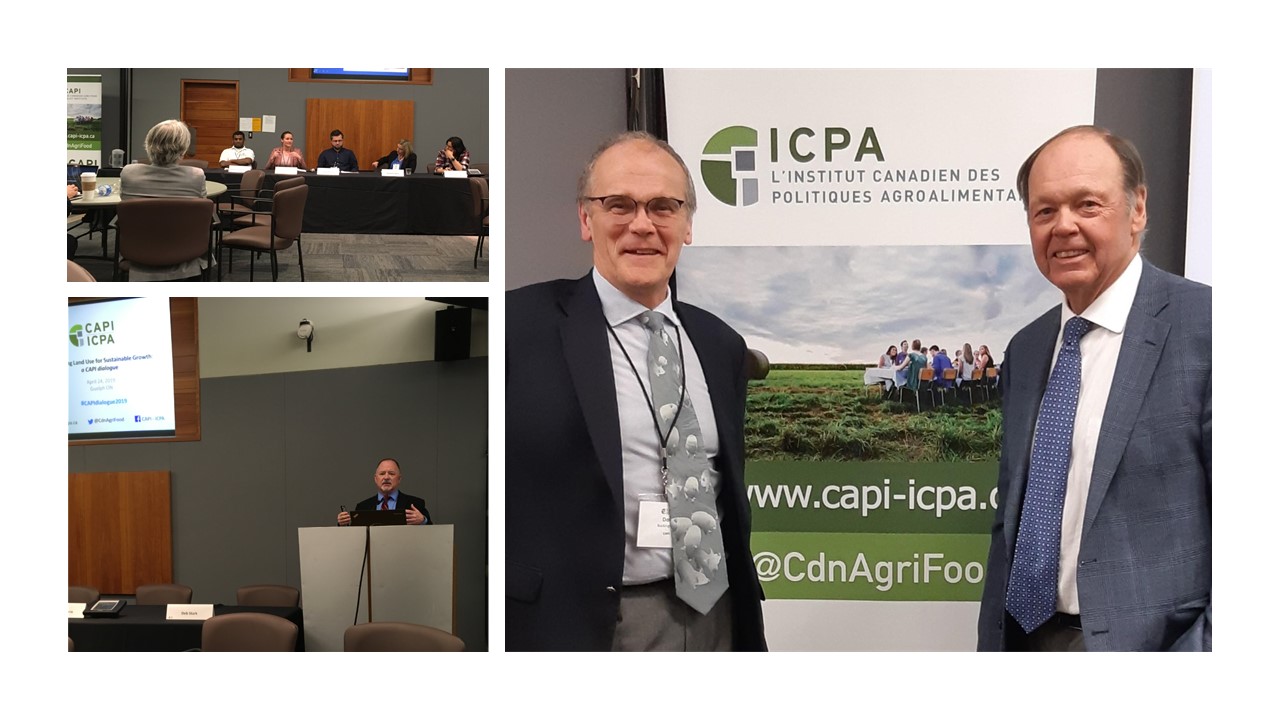 Way Forward for Sustained, Long-term Growth:  Optimizing Land Use
At the end of 3 major dialogues in 2017 and 2018 held by CAPI to examine "Barton Forward: Optimizing Growth in the AgriFood Sector", it became clear that growth for growth's sake will not be enough but rather will require a perspective shaped or characterized by optimizing growth through enhancing natural capital and adopting innovation. "Quality" growth is needed to ensure that the gains in the agri-food sector can be sustainable.
In agricultural production, soil use and soil quality connect not only to farmers' choices among competing enterprises, such as crops vs livestock, and management options but also to biodiversity, to air and water quality and, through carbon sequestration, to climate change. The key question is "how can land use be optimized in such a way to improve environmental and social outcomes while maintaining and improving the sector's long-term competitiveness and securing "quality" growth?".
To seek answers, CAPI convened its second dialogue with the participation of experts from industry, governments, academia and other research groups to commence a conversation on "Optimizing Land Use for Sustainable Growth" on April 24, 2019 in Guelph ON. With 70+ participants from government, producers, processors, academia, industry associations, and NGOs across Canada, the day was a great success raising awareness about land use practices and their impacts on GHG emissions, air and water quality, and biodiversity as well as on sector initiatives to improve sustainability and competitiveness.
What's more, this thought-provoking dialogue engaged various sector actors, bringing together opposing views in a collegial environment. Judging by the questions and comments from the floor and the full room until the end of the event, the topic "hit a nerve". Dialogue participants developed a shared understanding of the options available to optimize land use for sustained growth and long-term competitiveness.
This event was the success it was because of the great speakers, discussants and actively engaged participants, including next gen's, who contributed to this important CAPI conversation. CAPI thanks all of you who attended.
DOWNLOAD THE GUELPH CAPI DIALOGUE SUMMARY REPORT >
DOWNLOAD THE GUELPH CAPI DIALOGUE PROGRAM >
Join the conversation on Twitter using #CAPIdialogue2019
*PDFs of speakers' PowerPoint presentations and/or Papers can now be viewed & downloaded by clicking on the name of the speaker below*
WEDNESDAY April 24, 2019
Opening Remarks – Don Buckingham, CAPI President and CEO
SESSION 1 – Agricultural Systems, Land Use Practices and Water – Speakers:  David Rudolph, University of Waterloo Water Institute and Bruno Larue, Université Laval
Discussant: Joann Whalen, McGill University
Participants' discussion
SESSION 2– Animals and Soils
Impacts of land allocation choices (crops- grazing-intensive livestock) and production practices on GHG emissions, water quality and biodiversity and implications on productivity; Industry initiatives and innovations for improved sustainability
Industry Panel
Crops: Keith Currie, OFA
Organics: Ralph Martin, University of Guelph
Horticulture: Brian Gilroy, Canada Horticulture Council
Dairy: Getu Hailu, University of Guelph
Pork: Andrea De Groot, Ontario Pork Industry Council
Biodiversity: Lori Phillips, AAFC
Participants' discussion
Lunch with speaker: Greg Meredith, OMAFRA
SESSION 3 – Factors Affecting Land Use Choices and Agronomic Practices
Speaker: Brady Deaton, University of Guelph
Industry Panel Responds
Participants' discussion
SESSION 4 – Externalities and Policy Options
Externalities in the sector, where are the market failures.
Speaker: Alfons Weersink, University of Guelph
The role of innovation and policy instruments in addressing environmental externalities in agriculture.
Speaker: Glenn Fox, University of Guelph
Discussant: Kara Beckles, AAFC
Participants' discussion
SESSION 5 – Next Gen Panel: What We Heard
Closing remarks – John F. T. Scott, CAPI Chair