Agricultural Trade, Environment, and Food Security: Four Approaches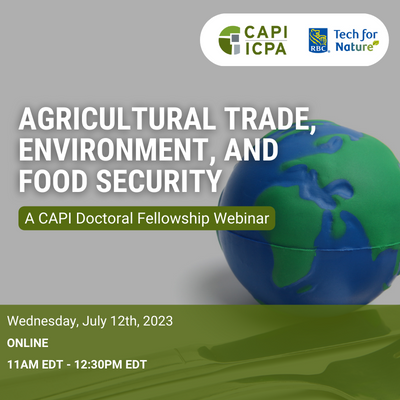 Year One of CAPI's 2022-2024 Doctoral Fellowship is coming to a close, and that means our fellows have produced four impressive individual reports on the intersection of agricultural trade, the environment, and food security. Topics range from behavioural insights in promoting the adoption of sustainable ag practices, to vertical farming and its contribution to the sustainability of Canadian food systems, to looking at Canada's fruit and vegetable supply as a first step to understanding vulnerabilities to climate change, to the legal impact of application of CBAMs to the international fertilizer trade. Join us on July 12th at 11am ET for a webinar as the fellows present their soon-to-be published work/recently published work.
This webinar is supported in part by the RBC Foundation through RBC Tech For Nature and part of CAPI's larger environmental initiative, Spearheading Sustainable Solutions.