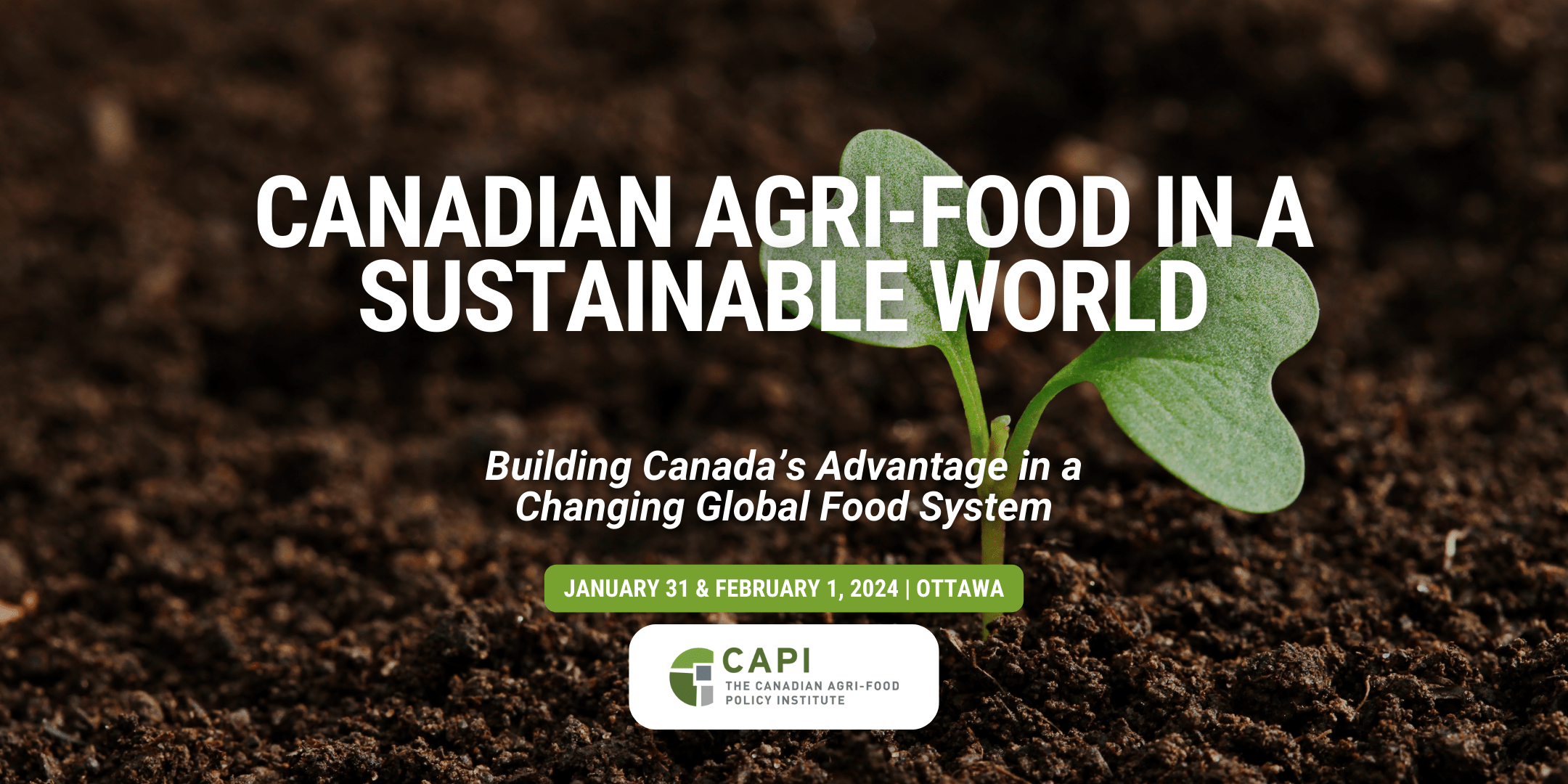 Sustainability is one of the defining issues of agriculture and food today. It has the potential to be both a major challenge and opportunity for Canada's agri-food sector from coast to coast. Seizing that opportunity and turning sustainability into Canada's competitive advantage and a driver of improving agriculture and food's economic, environmental and social impact growth requires building on our successes and doing things differently. It also requires a collaborative approach, with farmers, governments, value chains and civil society moving in the same direction. 
Canadian Agri-Food in a Sustainable World will convene leaders from the farm community, industry, government, academia and civil society at CAPI's annual conference to explore how to seize the sustainability opportunity.
Event attendees will hear global perspectives, learn about sustainable value chains, get insight into the action being taken on farms, explore effective policy solutions, and consider Canada's role in sustainable agri-food. There will be opportunities for networking throughout the event and interactive workshops on the second day.
Stay tuned. A full agenda and speaker details are coming soon. In the meantime, sponsorship opportunities are available now. For more information, please contact Bree Jones, Director of Business Development, at jonesb@capi-icpa.ca.
Early Bird Registration: $595*
Register before Jan. 10. Unlimited available. 
General Registration: $625*
Additional offers:
Registering a group of 5 or more? Contact our team directly for additional savings: richardsona@capi-icpa.ca. 
CAPI Partners are eligible for a special rate. Please contact Bree Jones at jonesb@capi-icpa.ca for details!
*plus taxes and fees
Session details may change. Stay tuned for full agenda and speaker details.
Fireside Chat: Setting the Scene – Canada's Challenges and Opportunities in Feeding the World Sustainably
Canada prides itself in being one of the world's most sustainable food producers, but there are increasing economic, environmental, and social pressures to be more sustainable. This session will set the stage by exploring the challenges and opportunities facing Canadian agriculture as it works to build Canada's sustainability advantage, increase our competitiveness, and demonstrate leadership in a more complex, challenging world.
Panel 1: Sustainable Food and the World – Global Perspectives
Sustainability is a global challenge that requires countries to act nationally. It also requires trading systems that enable sustainably produced food to get where it is needed. However, protectionism and domestic policies are making global solutions harder by shifting emissions, impacting biodiversity, disrupting trade and challenging competitiveness.
The Global Forum for Farm Policy and Innovation is a collaborative initiative between CAPI, the Australian Farm Institute, the Farm Foundation and the Forum for the Future of Agriculture. Representatives from the organizations will share their perspectives on the global landscape and what is needed to find trade-enabling solutions.
Panel 2: Sustainable Value Chains
Improving agriculture's sustainability requires actions along the supply chain. Farmers, food processors, retailers, and consumers all play an important role. Leaders from along the agri-food value chain will share their perspectives on what it takes to build more sustainable value chains, from producer incentives to assurance systems and consumer awareness.
Debate: Agricultural Sustainability as Canada's Top Opportunity
A captivating debate will consider whether sustainability is Canadian agriculture's number one opportunity. Join this lively conversation as two teams go head-to-head and help us select the winning argument.  
Farmers are on the front line of sustainability efforts, from mitigating and adapting to the impacts of climate change, to building financial resiliency and improving mental health. This panel of farmers will talk about what has been done, what is underway and what more needs to be done to improve farm sustainability.  
Panel 4: Effective Public Policy and Sustainable Agriculture
Public policy is increasingly being used to try and improve sustainability outcomes in agriculture and food, however, the effectiveness of current approaches is up for debate. This panel of leaders will explore what sound policy looks like in today's competitive ag and food landscape and consider what role governments should play in improving the sustainability of Canadian agriculture.
Panel 5: Moving Forward as a Canadian Agri-Food System
Turning sustainability from a challenge to an opportunity requires meaningful, substantive action, and no one link the agri-food system can do it on its own. The final panel will reflect on the day's dialogue and consider what needs to be done, how it can be achieved and who, including governments, farmers, industry and civil society, needs to do what.
New this year, the second day of the conference will feature interactive sessions and workshops. Topics include benchmarking sustainability, the science behind sustainability claims, and Canada's Sustainable Agriculture Strategy. 
Speakers will continued to be added in the coming weeks.
Dr. Bronwynne Wilton
Principal and Lead Consultant, Wilton Consulting Group
Dr. Bronwynne Wilton
Principal and Lead Consultant, Wilton Consulting Group
Dr. Bronwynne Wilton is the Principal and Lead
Consultant of Wilton Consulting Group. She has extensive experience in conducting creative and insightful stakeholder engagement research, facilitating workshops, and fostering unique collaborations in the agri-food industry. Bronwynne holds a PhD in Rural Studies, a Master of Science in Rural Planning/Landscape Architecture, and a Bachelor of Science in Agriculture.
Ben Gibbons
Founder and Managing Partner, Waterpoint Lane
Ben Gibbons
Founder and Managing Partner, Waterpoint Lane
Ben is an experienced investor with extensive capital raising and transaction expertise for growth stage companies. He has more than 18 years of deal experience with a proven track record of private company exits to strategic buyers, private equity firms, and capital markets with transactions exceeding $2 billion. He has a strong background in sustainability, leading investments in agtech and foodtech companies with a focus on advising founders and management on strategic planning, financing strategy and impact.
Dr. Rene Van Acker
Interim VP Research, University of Guelph
Dr. Rene Van Acker
Interim VP Research, University of Guelph
Dr. Rene Van Acker is Professor and Interim Vice-President Research (IVPR) at the University of Guelph. Prior to his appointment as IVPR, Rene was Dean of the Ontario Agricultural College (OAC) at the University of Guelph (2016-2023), Associate Dean External of OAC (2009-16) and Chair of the department of Plant Agriculture (2006-09). Prior to his appointments at Guelph, Rene was a professor at the University of Manitoba (1996-2006). Rene is a co-founder of the Food Institute at the University of Guelph (now the Arrell Food Institute) and has played a key role in fundraising for OAC since 2009. Rene's research interests include weed management and agronomy. He has published over 130 peer-reviewed works to-date and over 300 other non-peer reviewed contributions. His research on coexistence and genetically modified crops has led to work in Denmark, Austria, Switzerland, France, Germany, Australia, and the US. Rene grew up on a farm in southern Ontario. He holds BSc and MSc degrees from the University of Guelph and a PhD from the University of Reading (UK).
David McInnes
Founder & National Coordinator, National Index on Agri-Food Performance
David McInnes
Founder & National Coordinator, National Index on Agri-Food Performance
As Principal of DMci Strategies, David is a strategic advisor, speaker and facilitator on change and the opportunities facing the Canadian and global food system.
As part of this role, he is the Founder and National Coordinator of a private-public coalition of some 136 partners to develop Canada's first agri-food sustainability index, the National Index on Agri-Food Performance.
David is a Member of the Agricultural Research Institute of Ontario (ARIO), an Arrell Food Fellow with the Arrell Food Institute at the University of Guelph, an Affiliate of McGill University's Institute for Global Food Security, and he is a Global Advisor with Invest Nova Scotia.
Previously, David was the President and CEO of the Canadian Agri-Food Policy Institute. He has also held executive management positions with MDS Nordion, a Canadian-based global supplier of medical isotopes and cancer treatment technologies. He has also worked for the Canadian Bankers Association, Scotiabank, and a Royal Commission on the Canadian economy.
He is a graduate of the London School of Economics and Dalhousie University.
Yaghi Mohamad
Agriculture & Climate Policy Lead, RBC
Yaghi Mohamad
Agriculture & Climate Policy Lead, RBC
Mohamad Yaghi is RBC's Climate and Agriculture Policy Lead in their Climate Action Institute. With over a decade of experience in the agriculture and agri-food industry, Mohamad is shaping RBC's research and engagement in the sector to inform and inspire transition pathways across the economy and to push Canada to become the world's sustainable breadbasket. Before joining RBC, Mohamad led the successful market development of an international agriculture service provider in Canada and U.S., founded and led an AgTech start-up, Rakr Inc., that closely worked with livestock farmers across North America and Southeast Asia to promote energy efficient farming practices, and worked in the thought leadership groups at KPMG Lighthouse and GE Canada to propel innovation across Canada.
Stefanie Beck
Deputy Minister, Agriculture and Agri-Food Canada
Stefanie Beck
Deputy Minister, Agriculture and Agri-Food Canada
On February 20, 2023, Stefanie Beck was appointed Deputy Minister (DM) of Agriculture and Agri-Food Canada (AAFC).
Prior to joining AAFC, Stefanie Beck held the position of Associate Deputy Minister for the Department of National Defence for 13 months. Between October 2020 and January 2022, DM Beck served as Deputy High Commissioner to the United Kingdom of Great Britain and Northern Ireland and Alternate Representative to the International Maritime Organization. Prior to that, she was the Assistant Secretary to Cabinet, Priorities and Planning at the Privy Council Office, where she led work on Whole of Government priority setting and policy development, including through transitions to new mandates, and most recently, through the COVID crisis. Previously, DM Beck held leadership roles at Immigration, Refugees and Citizenship Canada and Global Affairs Canada, as well as several senior positions responsible for common services at Canada's diplomatic missions abroad, including cross-government governance.
DM Beck joined the Government of Canada in 1990 with the Department of External Affairs, working abroad as a political officer and an ambassador in various missions. She served in Dakar, Senegal, Canberra, Australia, and in Cambodia and Croatia. DM Beck grew up on several continents, attended high school in Singapore and St. Catharine's, Ontario, and has a Bachelor of Arts in German and Italian from McGill University.
Tyler McCann
Managing Director, Canadian Agri-Food Policy Institute
Tyler McCann
Managing Director, Canadian Agri-Food Policy Institute
Tyler McCann is the Managing Director of the Canadian Agri-Food Policy Institute. His career in agri-food policy includes working for federal ministers, farm groups, industry associations and agri-food businesses. Tyler operates a beef and goat farm with his wife and kids in Western Quebec.